Vale David Glassock 11.2.1963 – 23.2.2017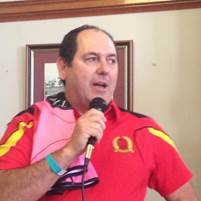 It is with an extremely heavy heart that I advise the passing of former Dirty Red player David Glassock.
David, or Glass as he was known, had a very distinguished playing career with the club in the late 1980's. He played over 100 grade games in all grades including First grade. He was a premiership winning player with both second and fourth grade teams and showed great characteristics as team man. Glass also achieved the honour of club captain and was a valuable clubman and team captain for many years.
David fought a long battle with cancer and defied medical odds to survive as long as he did. This epitomised his character on the field as a tough player who never gave up and fought to the end.
His infectious personality will be sadly missed by all dirty reds who have known him. Not long after he was diagnosed , the Drummoyne rugby community fortunately had the opportunity to celebrate his life with a traditional "rugby lunch" in Sydney – it was an afternoon to remember.
May he rest in peace – a great dirty red.
The club sends condolences to his wife Jenny and all the family.
Funeral details on the Sunshine Coast tba.
Regards
Danny Rawlings
President
Drummoyne DRFC