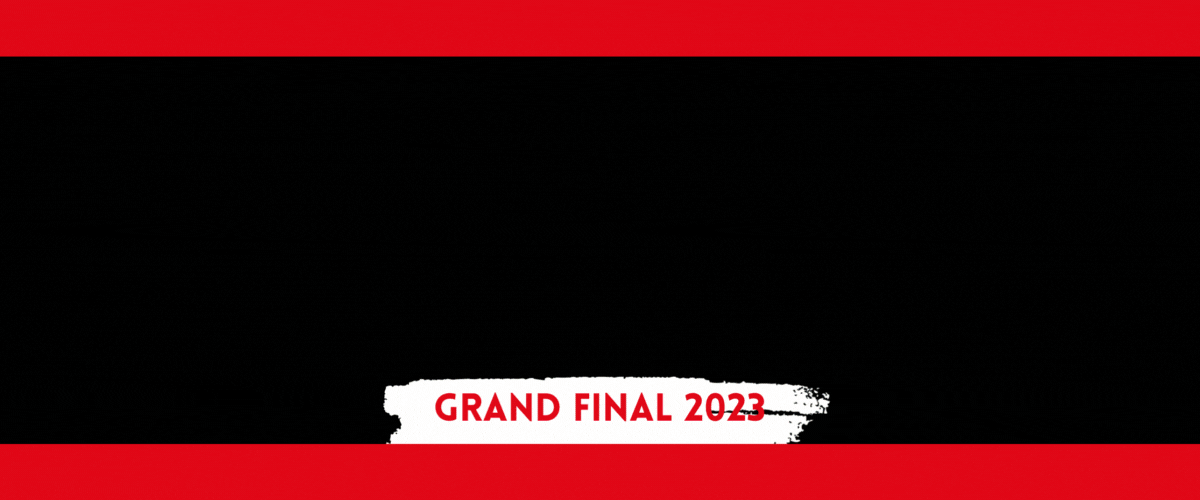 By "Nutta"
Gudday Cobbers,
In line with the theme, it was a good crowd of actual dad's, wannabe dad's, unidentified dad's, some random cowboys, disreputable hombres and all manner of other likely suspects of public-security watch-lists that gathered on Saturday 02 September for the Sydney Subbies Div 1 Grand Finals. While some had earlier starts than others and had already been flexing biceps and neck muscles at various warm-up events earlier in the day, nonetheless the various veins and streams of Red Men did blend and weave together into a motley tapestry of bonhomie at Concord Stadium. And so we took up a generally good-natured, even if somewhat ribald, communal residence on the south east side of the ground to talk, yell, berate, sing, make havoc, shuffle sensible white shoes and cause commotion for the various teams of combatants who took the field in the day's proceedings.
For the record:
5th Grade (Sutherland Cup) was contested on Friday night at Dave Phillips Fields (UNSW) between Waverley (who finished the regular season as Minor Premiers at 5 from 6 for 25pts) and Mosman (2nd placed at 4 from 6 on 21pts). Waverley carried the evening by 18-12.
4th Grade (Judd Cup) again saw Mosman (Minor Premiers and Undefeated with 12 from 12 for 57pts) confronting Waverley (8 from 12 on 39pts) at Concord-proper with a spritely 9am kick-off. And again the Waves stole the cookies from the Whales 8-10 in what was surely the upset victory of the day.
3rd Grade (Whiddon Cup) was keenly watched by a few embittered Red Men and in that we saw Minor Premiers Waverley (10 from 12 on 47pts) contest with Colleagues (3rd placed at 7 from 12 on 33pts). Despite being closely contested, with the scores locked at 7-7 as late as 15min into the 2nd half, Waverley finally 'put the foot down' and skipped away to a 22-7 victory, capping it off with a scrum-pushover try. One point of interest for the spectators was that the Colleagues lads did not attempt a single charge-down of a conversion in the whole match (funny that).
Colts (Barbour Cup) was also particularly interesting as the season-dominating St Pats team failed to even make the Big Show, being trounced by Colleagues the week before by 29-0. Thus we saw Forest, who finished the season 2nd on table with 9 from 12 on 44pts, take on 3rd placed Colleagues who closed at 8 from 12 on 38pts. Kicking off just prior to noon, it was a cracker of a match, with Forest eventually pinching the day and their first ever Barbour Cup by 17-15 to the enormous delight of their raucous crowd. I must say it was about the only time in my life I ever barracked for a Forest win and let's not forget that the Forest lads then joined our 2nd grade tunnel thereafter.
First Grade (Kentwell Cup) saw the Minor Premiers Hunters Hill, who closed regular season at 10 from 12 on 47pts, take on the second-placed Blue Mountain Goats who finished with 8 from 12 on 45pts. Blueys had absolutely shafted the Hunters lads a fortnight earlier in the Major Semi at Drummoyne and again from this kick-off, Blueys continued the dominance and looked to have proceedings in-hand. However a late 1st half pie (unsauced) to the Hunters lads saw oranges called at a deceptively respectable 27-12. Again, after the break, Blueys dominance reasserted itself and they skipped away to a healthy 44-19 lead. But, long story short, two late-game yellow cards reduced the Mountain Goats to 13 men and the Hunters lads came roaring back into the game with 3 quick-fire tries. The closing 10min of the match were nothing if not intense with the Hunters lads remorselessly clawing back the Bluey's lead. But ultimately, the time ran out and the Blue Goats held on to win 44-40. Being the Bluey's first ever Kentwell Cup Premiership in their 67 year history, the scenes after full time were beyond mere pandemonium. And I can tell you first hand that as late as Monday night on my way home from work, the Bluey's Clubhouse was still in muted action with around two dozen hardy souls still in-play and showing no signs of tossing in the towel.
As regards our Big Dance…
2nd Grade (Burke Cup) saw our Red Men, who finished regular season at 3rd on table with 8 wins from 12 starts on 42pts, taking on the Minor Premiers Colleagues (11 from 12 on 48pts). Comments from Supercoach Mick were that it was to be a ripper of a match as the best attacking team of the year (Reds) took on the Minor Premiers who had only dropped one game all season. And within that, Mick discussed how the week was managed cautiously, as we had a couple of injuries and trying to work around. A major of these was 'Big Man Sione' at No8 and it was good to have Tom 'Doc' Carruthers jump on the bench.
Regarding the game proper, Supercoach Mick gave a blow-by blow account. He felt the game started well, with the first 10-15 minutes being played between halfway and Colleagues 22m. But unfortunately raid after raid was defended strongly and we weren't finding the break-through or try line. Once Colleagues managed their first attack at the Reds line, they were efficient and grabbed the lead (0-5). And not long after, the Red men were under pressure once again with a penalty allowing their kicker to extend to 0-8. From there, missed Red opportunities allowed Blue to once again set up a series of attacking raids on the Red try line and a 2nd pie, duly sauced, saw them out to a 0-15 lead. Then another penalty saw the sides go to oranges at 0-18 to the Blue despite them having a man sent to the bin 'for being a cheat in a blue shirt'.
Some carefully crafted words from Supercoach Mick saw the Red Men begin the second stanza with some electric attacking play and, following some great counter-attack, Joe Colley crashed over in the corner for a pie. Unfortunately Evan O'Connor's kick fell short to leave the score at 5-18. Then not long after, we had a lineout on their 40m line, which was won by Alex Wilmore and mauled well up-field. The front-foot ball allowed Corey Griffin to release the Backs and, following a lovely pass from Even to put Liam Corry through a hole, Liam found Jimmy V unmarked on the wing to grab a 2nd pie. Unfortunately, the wind played havoc with Even's goal-kicking and the score was 10-18. From there, our superior bench-quality started to tell and the resulting scrum dominance set up a great run by Josh Hayward to set up camp deep in the Colleagues 22. From there, under penalty advantage, another attacking raid saw Nick Powell go very close, but for Even O'Conner to spot a gap, drive over and register our third pie of the day. Unfortunately, the luck of the boots remained elusive and the score sat 15-18. From there, Supercoach lamented we lost momentum, made some errors that allowed the Colleagues out of their danger-zone, and we ran out of time to go down 15-18.
Supercoach Mick was keen to be sure I extended his thanks to everyone who 'booted up' on the day, especially to those guys who didn't get on. He also extended thankyou's to all the coaches for helping out 2nds this year, especially John Sinisa and David Mew. And lastly, he was keen to offer thanks to all the players who came down to help out at training across the finals period and to those who led the chants for 'Scrum Scrum Scrum'.
From this authors point of view, after being down 18-0 at oranges, the 2nd half fightback to post 3 unanswered tries was immense. But the lads just couldn't get home. In what was an increasingly unpredictable breeze, none of the conversions landed and, as usual, we were on the wrong side of a penalty count and some interesting Officials decisions that let the Colleagues off the hook at inopportune times. You couldn't fault the lads efforts, for the heart on display was enormous. But it was not to be. Ce sera sera.
Full credit must go to Supercoach Mick for managing, chiding, poking and shepherding that motley collection of misfits throughout the season. Despite the hurdy-gurdy of being the way-station for 1st grade, Mick managed to keep a core of that team together and weld a unit that was hungry for the contact and adaptable to the situation at hand. They played a direct, robust style of footy, one full of vigour, and what they sometimes lacked in polish and subtlety, they compensated for with sheer will. They had a good season, one to be remembered, and the club is proud of their efforts.
In closing…
Well that's that. We've played our last match for 2023 so that's the last of these reports. The dance is done, the swags are rolled, the footy boots are talcum powdered and put away, and the empty stubbies and pizza boxes are in the bin (recycling Boys, recycling yeh?). I hope you Dear Reader enjoyed my ramblings as I tried to bring a sense of what happened each weekend with an insight into how the club was faring. I'll take this opportunity to thank the coaches and managers for their post-match reports and thoughts, as they are not always easy to give, especially after losses. And I'll also acknowledge here the committee types and the behind-the-scenes folk who just make things happen around the club: from the BBQ & canteen gang, the physios and strapper gang, to Rossco, Shaneo, Wally, Kenny, Craig, Col & Elma and to all the folk I've undoubtably forgotten and whom, without their efforts, things just don't work.
Most of all I give a nod to Trev and Baggs for poking me in the ribs to take this task on. For whilst it has taken some time to do, it has been enjoyable.
I'm looking forward to seeing everyone at Drummoyne Oval for Presentation Day on 23rd of September and let's gear up for what will be a massive 2024 & 150 year anniversary celebrations.
Boire le vin,